Section Event
Mt Somers Trad Climbing Trip Thursday, April 1 2021 — Monday, April 5 2021
The Basics
Event type:
Rock climbing
Start date:
Thursday, April 1 2021
End Date:
Monday, April 5 2021
Registration cut-off
Tuesday, March 30 2021 12:00 AM
Trip organizers

| | |
| --- | --- |
| Mathijs van de Ven [Otago] | |

Cost
~ 100 NZD
Participant Information
Who's invited
Members and guests
Attendee screening
Attendees are pre-screened
Maximum number of participants
10
Total number registered
7
Who's registered
You must be logged in to view participant list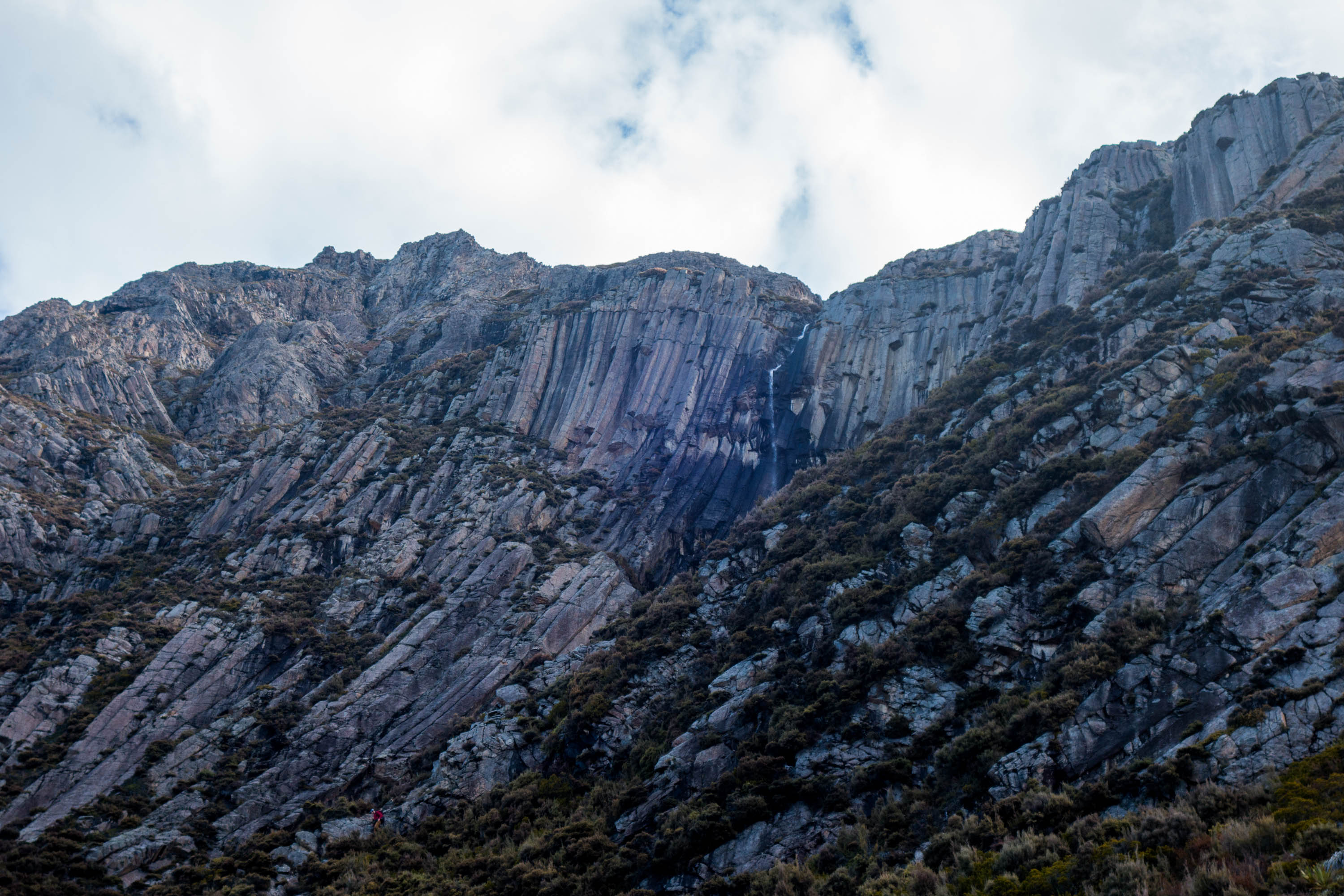 ---
Description
Trad rock climbing meet at one of the most scenic crags of the South Island! Note that this is not an instruction course, and participants are to provide their own rock climbing gear, safety equipment and camping equipment. 

We plan to leave Dunedin by 4PM on Thursday 1st April and drive to Mount Somers Domain Campground (~3.5-4 hour drive). The pub is across the road from the Domain Campground and we can have our evening meal here, or get takeaways on the way. Camping is $20 per tent. Showers and kitchen are available. 
On Friday, we pack up early (sunrise at 8 AM) and drive from the Domain to Sharplin Falls Reserve (~15 mins). We will walk the Sharplin Falls Track to the Pinnacles Hut Track (5.2km, ~3 hours one minute). We drop off overnight gear and head up to climb. Saturday and Sunday we have all day to climb and we head back out on Monday morning to the Sharplin Falls carpark.
Early birds may want to squeeze in some morning climbing on Monday before leaving but be aware that access to the climbing areas is ~1 hr from the hut. We are planning to be back at the carpark around 1 PM before driving back to Dunedin (those who need to leave earlier are welcome to head out whenever it suits them...please note your plans in the sign up form). We are aiming to be back in Dunedin around 5 PM Monday.
The Pinnacles Hut is a popular hut and online bookings are required in advance, especially with Easter. The hut sleeps 19 on single and double bunks. Due to likely demand I would recommend booking beds as soon as you sign up to the trip. Cost is $15 per night, but back country hut passes can be used. Water is supplied directly from a stream. If concerned about water quality, bring a filter or other sterilisation equipment. The hut has a wood burner, but cooking facilities and utensils are not provided. There are also several (small) campsites near the hut if you prefer to tent.
Climbing at Mt. Somers is mainly top quality trad lines in a variety of grades on impressive columns of volcanic Rhyolite. 
For more info on the  rock climbing and topos, check out ClimbNZ.
For more info about the walk in see NZ topo map and this DOC resource.
---
Getting There
We plan to carpool from Dunedin leaving at 4 PM to arrive in Mt. Somers Domain Campground by 8 PM on Thursday 1st April. We will drive back to Dunedin by 1 PM on Monday 18th November to be back in Dunedin around 5 PM.
---
What to Expect
· Excellent trad climbing (grade 12-25) in one of the country's most scenic crags.
· Solid hike to Pinnacles hut (~3 hrs) over rough track. At least 1 hour walk/scramble up steep hill to climbing areas.
· Reasonable level of tramping fitness required as the Pinnacles Hut track is a rough tramping track and you will be carrying a heavy pack with overnight and trad climbing gear and possibly camping gear.
· Must be comfortable belaying and preferably leading trad climbing outdoors. If you are not comfortable leading trad then you will need to pair up in advance with someone who is happy to lead and has own trad gear.
· Must be able to clean an anchor and set up a rappel safely.
· Access tracks to the climbing areas may be exposed and you must be comfortable with some easy/moderate scrambling.
---
Possible Hazards
In addition to the 'normal' rock climbing hazards, be aware that:
The Pinnacles track may be slippery after rain and there is significant risk for slips trips and falls.

Small river crossings may be required on the access track after heavy rain.

Some large loose rocks have been noticed on the climbs previously (notably at Meat Grinder and Christian Principals wall) and pose a hazard if many people climb in a small area simultaneously. Be extra mindful of people climbing next to, above and below you.
---
Gear
You must have your own safety gear (helmet/personal safety etc)

You must have a full personal climbing kit including you own

trad climbing gear. If you don't you have to organise to share with someone else.

Guidebook or printouts if you have them are recommended.

Clothing and equipment for 4 days in an outdoor environment that can have extreme weather including snow at any time of the year. Rain jacket and pants plus warm layers e.g. down jacket, polyprop top/bottoms, fleece.

Camping gear for tenting at Mt. Somers domain for one night plus staying at hut e.g. tent, sleeping mat, sleeping bag. There are currently bunks available in Pinnacle Hut via online booking system but if you miss out on booking a bed then you will have to tent.

We will cook together as a group for evening meals on Saturday and Sunday in groups of four (max), to save weight carrying in surplus fuel bottles and pots. Please bring own breakfasts, lunch, snacks. Trip leader will delegate cooking groups and you can discuss shared dinner requirements within the group.
---
Registration
Click the button below to be taken to the sign-up form. If attendees are not screened, then you will be automatically added to the participant list.
For screened events, the trip leader may contact you for further information about your experience and skills.
The start date for this event has passed.