Section Event
Spur Road Trad Climbing Saturday, December 7 2019 — Sunday, December 8 2019
The Basics
Event type:
Rock climbing
Start date:
Saturday, December 7 2019
End Date:
Sunday, December 8 2019
Registration cut-off
Friday, December 6 2019 11:00 PM
Trip organizers

| | |
| --- | --- |
| Eve O'Brien [Otago] | |

Cost
Min $40 per 2 person camping site, fuel costs will be shared within each car (expect at least $40 per person for 4 people in car).
Participant Information
Who's invited
Members and guests
Attendee screening
Attendees are pre-screened
Maximum number of participants
15
Total number registered
4
Who's registered
You must be logged in to view participant list
---
Description
Weekend foray to explore a lesser known trad climbing crag which is 15 mins out of Timaru.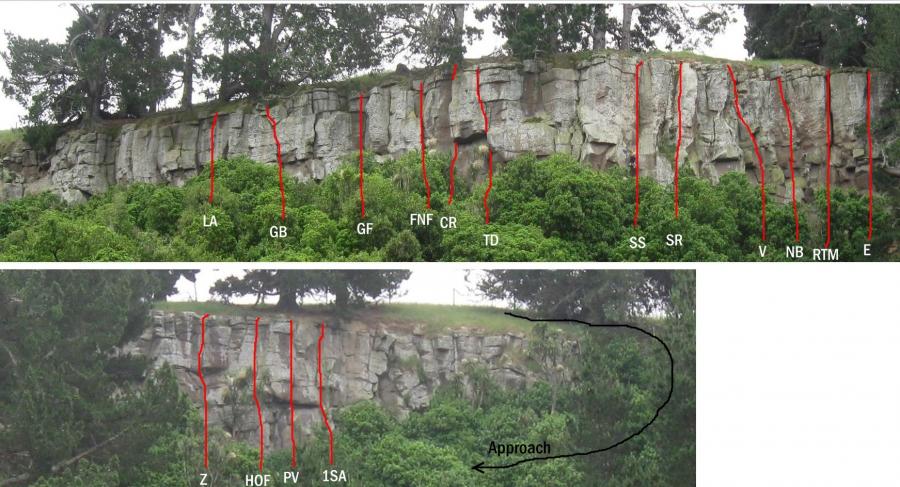 ---
Getting There
I plan to leave by Dunedin by 8am on Saturday (7th December) and arrive at the crag around 10:30 - 11am which leaves rest of the day/evening for climbing. We would then climb on Sunday morning (8th December) with options to leave around 1pm or slightly later depending on when people want to be back in Dunedin (2 1/2 hr drive approx.). 
Parking at
crag
can be found on Google maps. 
---
What to Expect
Relaxed weekend exploring a crag that is a bit off-the-beaten track but still has interesting climbing and an easy 10 min approach. This crag only has trad routes and most of the climbs require knowledge of rigging tree anchors as only a small number of the easy trad lines have bolted anchors. 
Great crag for those wanting to build confidence in trad climbing due to the large number of easy lines but also has plenty of challenge to keep the more advanced trad climbers happy. I am open to taking a few people who are only interested in top rope climbing as long as they are comfortable belaying (this will depend on the number of confident trad leaders who come) but this is not a weekend to learn to trad climb as no instruction will be offered. 
---
Gear
Accommodation: Plan is to stay Saturday night at
Timaru Top 10 Holiday park
(10 min drive from crag) which has camping sites from $40 per 2 people and cabins starting at $70 per 2 people. This campground has a full kitchen and showers ect. so you would only need to bring a tent (if tenting) plus bedding/sleeping mat. This campground has plenty of availability for camping so we don't need to book ahead but if you wanted to book at cabin then you would need to organise this in advance yourself. 
Food: Bring lunch/snacks for 2 days, breakfast for 1 day and we will probably buy Sat dinner in Timaru (lots of takeaway food options available) but feel free to bring food to prepare if you prefer. 
Gear: You will need normal climbing gear (harness, helmet, shoes, belay device, quickdraws ect.) along with a trad rack or be sharing one with someone else. It is important to have plenty of long rigging ropes or cordelettes for setting up tree anchors from the pine trees at top of crag. 
---
Registration
Click the button below to be taken to the sign-up form. If attendees are not screened, then you will be automatically added to the participant list.
For screened events, the trip leader may contact you for further information about your experience and skills.
The start date for this event has passed.